Today's Deal :
Up to 82% Off!! Choose from Three Amazing Firming and Facial Packages From Envie for P450 Only!
Details:
Valid from Dec. 28, 2010 to June 30, 2011
Reservation must be made 3-days prior.
Walk-in clients are accommodated on a per slot availability arrangement.
Not valid with other promos.
Highlights:
Three amazing packages to choose from!
Completely safe, non-invasive and non-surgical treatments.
A great way to look amazing and feel amazing!
Get as many vouchers as you want!
About the deal:
Looks like a lot has been preparing for the holidays, but what about after all those Christmas festivities are about to end?
CashCashPinoy will get you prepared to regain their sexy figures (and loose as much as 3cm/session in the process) during and after the holidays
with
Envie Slim & Sculpt's three amazing firming and facial packages
! Choose one of these absolutely effective packages for
only P450!
What a deal this truly is!
Envie Slim & Sculpt
is a slimming clinic that uses
non-invasive and non-surgical
treatments to
make your face and your body look FAB-U-LOUS!!
The techniques they use are
at par with those widely used in Europe, Australia, USA and several other Asian countries
. As Envie would like to say, "
We do not have claims, only actual results!
"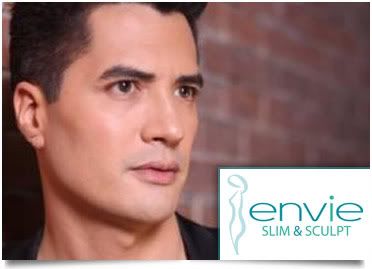 The
three wonderful packages
Envie has in store for us are the following:
The ultimate facial experience starts with a relaxing facial cleansing followed by a Dermalift treatment, a non-surgical total face and neck lifting using controlled Radio Frequency technology to safely remove unwanted facial fat, contour the face, lift sagging skin, diminish wrinkles and fine lines. This treatment rapidly improves skin quality. The facial portion of the treatment lasts 25 minutes while the Radio Frequency lasts for 20 minutes.
A facial therapy utilizing Galvanic technology to instantly rejuvenate the skin and improve collagen production, eliminating wrinkles and relaxes facial muscle. This quick and painless process increases skin elasticity by strengthening the connective tissue of collagen and elastin fibers. Reversing the aging process up to 5 years and locking-in that youthful look. Truly age-defying! This treatment lasts 30 minutes.
Advanced slimming and firming treatment that uses controlled Radio Frequency technology. Effectively combats cellulite or that "orange-peel" look. Contours and shapes the arms, body, back, thighs and calves for a toned appearance. It also effectively diminishes stretch marks. Envie recommends this treatment to those who have undergone liposuction and to the new moms out there who want to regain their sexy figure. This treatment lasts for only 40 minutes.
So if you want to avail of
one of these three amazing packages in CashCashPinoy
, don't hesitate to click that
green "Buy" button
up there! These packages are sure to make you
look smokin' hot
during the holidays or after you've eaten all those delicious food that's been coming from your neighbours left and right!
Envie Slim & Sculpt

80 Panay corner Timog Avenue, Quezon City
Tel. No.: (02) 351.0143 (look for JB Bautista or Korin Yenko)
Operating Hours: 10:00AM to 8:00PM daily
How CashCashPinoy works
Very simple : each day, CashCashPinoy features something cool to do in several towns, all over the Philippines, at amazing discount prices of up to 90% off.
How to purchase
First, your just sign up to get your daily deal by email. Then, with just one click to subscribe to your daily deal and another one to chose your favorite payment system!
Once your payment has been made, you will immediately receive your voucher by email and in your CashCashPinoy account! Print it and simply present it to the merchant and enjoy your fantastic deal… and your savings!!
Register to CashCashPinoy now by clicking on the image below: